Technology
Bluetooth Printer – A wireless printing technology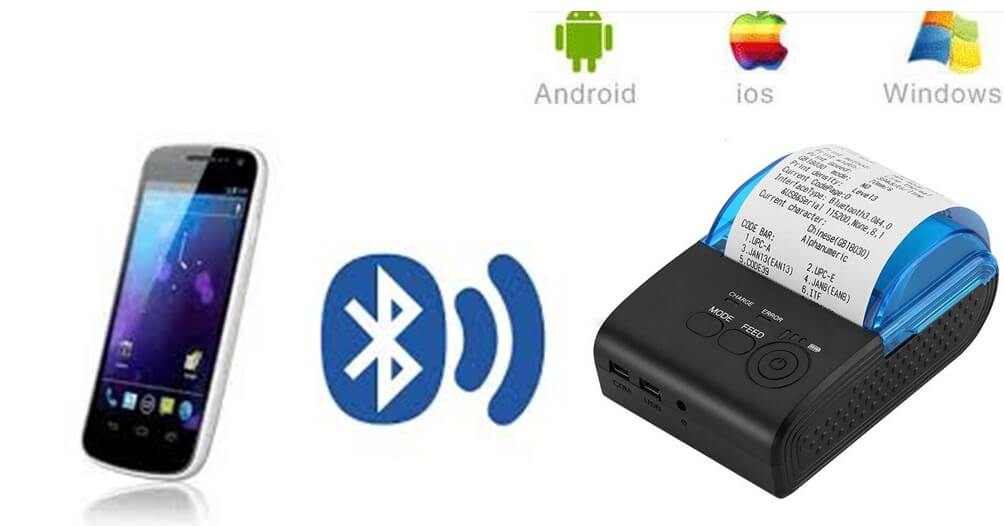 Every coming technology has something to do with the previous technology. Or we can say that the new technology is the latest version of the existing technology.
Printers are used in various fields to output the required information in hard format. We use printers in our homes, offices, workplaces, studios, hospitals, shopping malls, educational institutes, industries, etc.
Students use printers to print out their notes, assignments, study material, drawings, etc. In the medical field, Doctors use it to print out their patient diagnostics reports. Business persons use it for printing their presentations, report, profiles, etc. However, stores, cafes, restaurants, hotels, printers are used to print for different specific purposes.
Had we thought that documents or files would also be printed wirelessly?
Now, printers are also available that can print your files wirelessly.
Types of Wireless Printers
There are two types of wireless printers:
1. Bluetooth printers
Bluetooth printers have wireless printing capability within a short-range because Bluetooth uses low power to connect devices over the wireless network.

2. Wifi printers
Same like Bluetooth printers, Wi-fi printers also have a wireless printing facility but over a large range more than Bluetooth.

In this topic, we will discuss Bluetooth printers but before exploring Bluetooth printing technology, have a brief introduction of Bluetooth and its devices.
What is Bluetooth?
Bluetooth technology was introduced in 1989. The purpose of this technology was to transfer data between two or more communication devices wirelessly that exist in a short range. The data that we can exchange may be in the form of photos, videos, text. The Bluetooth technology is capable to transmit data within the range of 10 meters.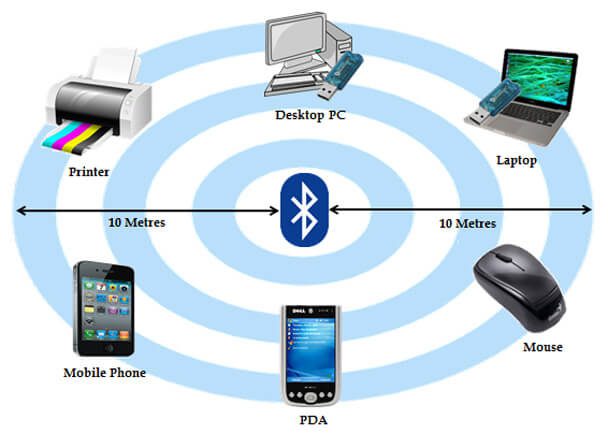 Bluetooth headset is a popular example of this technology that we use to connect it with our mobile phones to transfer our voice-over to another mobile phone user. By using this Bluetooth device, we can not only talk but also listen to music wirelessly.
Bluetooth Devices
Nowadays, keeping in view the trend of wireless technology, Bluetooth technology has become more advanced and so many Bluetooth devices have been developed which are being used frequently to get rid of a wired or physical connection.
Examples of multiple Bluetooth devices are microphone, speakers, keyboards, earbuds, TVs, laptops, watches, inverters, cameras, headphones, mobile phones, Printers, etc.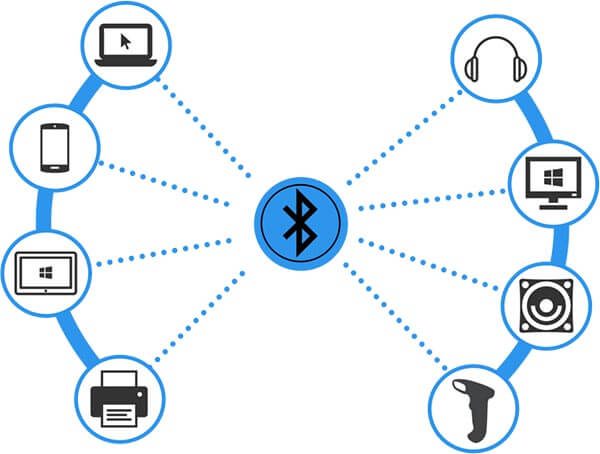 Bluetooth Printer
Bluetooth printer has a wireless printing technology that enables us to print our pictures, documents, text, etc without any need for a physical connection. It provides the easiest way to print our required job even when the printer is set up on another room or floor or within the range of 10 meters.
Feature of Bluetooth Printer
Bluetooth printer offers an effortless environment because it does not need a wire to connect your device even we can give the print command by using our mobile phone. To use the Bluetooth printer, our device must have Bluetooth functionally and that's it.
It can be configured on any operating system whatever you have it may be Windows, Android, or IOS, to operate the printer wirelessly. It reduces the hardware cost.
The Bluetooth printers can also be connected with wires or cables. In other words, we can say that every Bluetooth printer has has also the functionality of a wired connection.
Hardware and Software Requirements
Following hardware is required to set up the connection:
Bluetooth Printer
A Power cable to supply power to the Bluetooth printer
Bluetooth supported devices such as laptop, PC, or mobile phone
Printing material for printout
Following software requirements must be considered to connect with Bluetooth printer:
Window 7 or higher operating system in your laptop or PC.
A Compatible Bluetooth drive
How to set up a Bluetooth printer
The following steps describe how to connect a Bluetooth printer with your computer or laptop:
Plug the power cable into your Bluetooth-enabled printer to provide a power supply.
Ensure that your Bluetooth devices, laptop, and printer must be in discovery mode. So that they can detect each other.
On your laptop, go to the control panel and open Bluetooth devices.
Click "Add Bluetooth or other device" and select your Bluetooth printer.
In a short while, your printer will pair with your laptop.
What is the difference between Bluetooth vs Wi-Fi printer
Major differences between these two types of wireless printers are here as under:
| | | |
| --- | --- | --- |
| Parameters | Bluetooth Printer | Wi-Fi Printer |
| Hardware Requirement | Bluetooth – If your computer or laptop does not have built-in Bluetooth, then you have to plug in an extra Bluetooth USB adaptor to use the wireless printing feature. | Wifi connection or network |
| Printing Range | Due to the low power connection, it can print with a range of 10 meters. | With power radio bands as compared to Bluetooth, it can print up to 100 meters and the wifi range can be further extended by using extra hardware such as repeaters. |
| Set up | Easy to set up – Does not need any technical expertise | It is a little complicated than Bluetooth printers. To set up a wifi-printing network requires more technical assistance. |
| Easy to use | Simple and easy to connect and use | Complex configuration and time consuming |
| Power Consumption | Low | High |
| Connection problem | Less chances of connection loss | Uncommon |
| Suitability | Suitable for short-distance printing | Suitable for large distance printing |
Table showing comparison between Bluetooth printers and Wifi printers over different parameters
Latest models of Bluetooth Printers