Reviews
Google Pixelbook 12in with Innumerable Features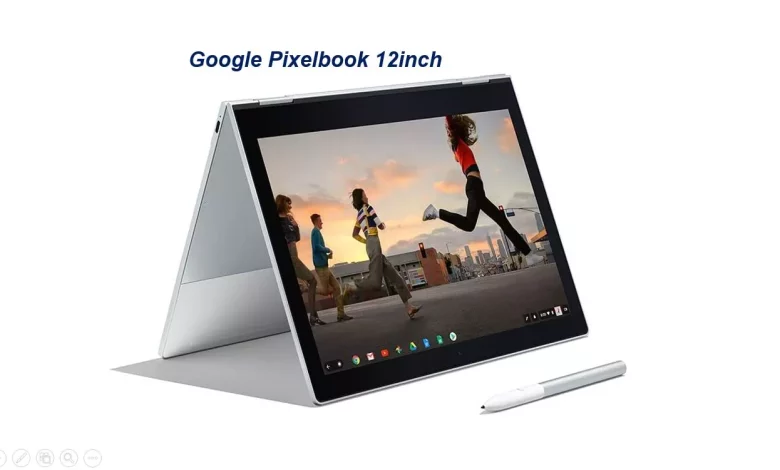 Google Pixelbook 12in – Quick Review
The Google Pixelbook 12in is a premium device that combines sleek design, powerful performance, and seamless integration with the Chrome OS ecosystem.
The Google Pixelbook 12in has a 4-in-1 convertible design that packs a punch in terms of both design and functionality.
Its 360-degree hinge allows for easy transformation in and out of a tablet, tent, or entertainment mode, while the 12-inch touchscreen display is bright and sharp and provides an impressive visual experience with a resolution of 2400×1600.
It is powered by Intel Core i5 7th Gen processor, up to 16GB RAM, 512GB solid-state drive storage, plus support for the latest Wi-Fi technology, and has a full HD Retina display with over 4 million pixels.
Pros
Lightweight and Premium design
Versatile usage modes, including laptop, tablet, tent, and entertainment stand
Top-of-the-line performance
High-quality display with a resolution of 2400×1600 and a pixel density of 235 ppi.
Long battery life of up to 10 hours.
Reliable Chrome operating system.
Cons
Expensive compared to other Competitors
Limited ports with only 2 USB-C ports
Poor audio performance
No biometric login or fingerprint scanner
Price
The Google Pixelbook 12in is available in 2023 with a price tag of $999. Visit its official site for more details.
Google Pixelbook 12in – Detailed Review
This detailed review will explore every aspect of the Google Pixelbook 12in to help you make an informed purchasing decision.
The device's lightweight design, which weighs just under three pounds, makes it easy to transport and use on the go.
The Pixelbook's performance is powered by an Intel Core i5 7th generation processor and up to 16GB of RAM, ensuring smooth and fast operation even when running multiple applications simultaneously.
The keyboard is comfortable and responsive, and the backlit keys make it easy to work in low-light environments.
Furthermore, the battery life on the Pixelbook is impressive, with up to 10 hours of use per charge.
From the magnetic auto-tilt hinge to its seamless integration of Google services like Chrome OS, Google Doc suite, and other cloud applications – the device provides users with an efficient environment for their daily computing tasks.
Features and Specifications
| | |
| --- | --- |
| Display | 12.3-inch touchscreen |
| Resolution | 2400 x 1600 (235 ppi) |
| Processor | Intel Core i5 (7th Gneration) |
| RAM | 16GB |
| Storage | 512GB SSD |
| Graphics | Intel HD Graphics 615 |
| Operating System | Chrome OS |
| Connectivity | 2x USB-C, 3.5mm audio jack, Wi-Fi 802.11ac, Bluetooth 4.2 |
| Battery Life | Up to 10 hours |
| Dimensions (W x D x H) | 11.4 x 8.7 x 0.4 inches (290.4 x 220.8 x 10.3 mm) |
| Weight | 2.45 pounds (1.11 kg) |
Specification: Google Pixelbook 12in Chromebook
Performance
The Google Pixelbook 12in is powered by a 7th-generation Intel Core i5 processor, which provides fast and efficient performance.
It comes with 8GB of RAM, allowing it to handle multiple tasks simultaneously without any lag.
The device has a solid-state drive (SSD) with a capacity of 128GB, which provides fast boot and load times.
Design
The Google Pixelbook 12in has a sleek and slim design, with a thickness of just 0.4 inches. It weighs only 2.45 pounds, making it easy to carry around.
The Chromebook has a 12-inch touchscreen display with a 2400 x 1600 pixels resolution, providing clear and crisp visuals, excellent color reproduction, and a wide viewing angle.
It has a 360-degree hinge, which allows you to use it in multiple modes, including a laptop, tent, and tablet. This makes it versatile and perfect for a variety of tasks and activities.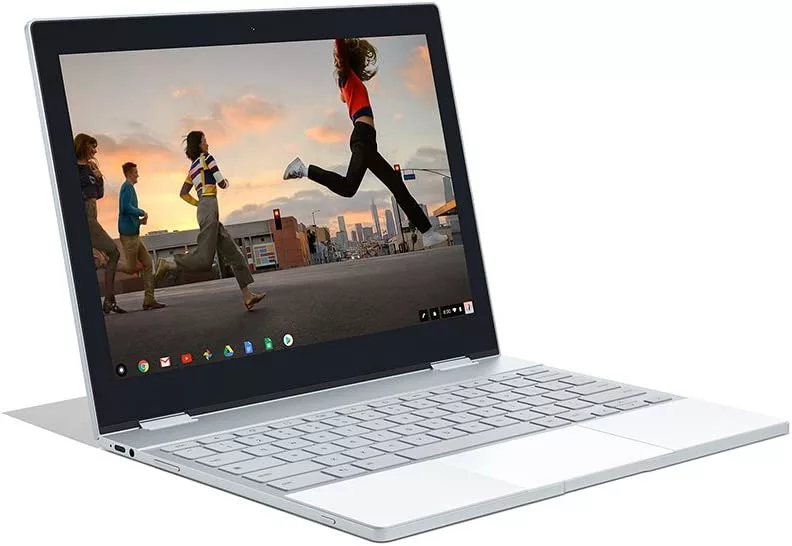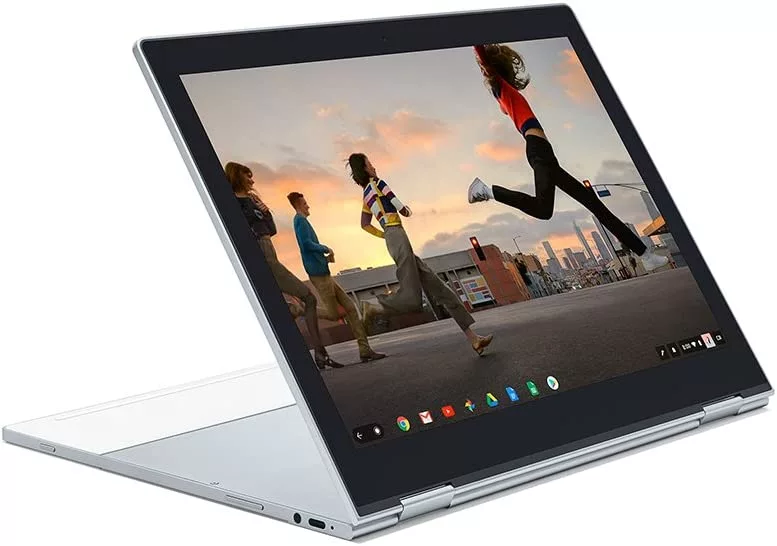 Build Quality
The Google Pixelbook 12in is made with high-quality materials, including an aluminum body that is both durable and stylish.
It has a backlit keyboard, which makes it easy to type in low-light conditions.
The chromebook has a responsive touchscreen that is smooth and easy to use.
Keyboard and Trackpad
The keyboard on the Pixelbook is a joy to type on, with well-spaced keys and satisfying key travel. The backlit keyboard ensures comfortable typing in low-light conditions.
The trackpad is large and responsive, providing precise cursor control and smooth multi-touch gestures. The haptic feedback adds a subtle touch of realism, making it feel like a physical click.
Graphics
The Google Pixelbook 12in comes with integrated graphics for everyday tasks such as web browsing, document creation, and media playback.
It is not designed for gaming or heavy graphics processing.
Operating System
The Google Pixelbook comes with the Chrome operating system, which is fast, secure, and easy to use.
It provides a secure and streamlined experience, with automatic updates, built-in antivirus protection, and seamless integration with Google services such as Gmail, Google Drive, and Google Assistant.
Connectivity
The Pixelbook comes with a good selection of ports, including two USB-C ports for charging, data transfer, and connecting external displays.
It also features a headphone jack for audio output. However, the absence of USB-A ports might require dongles or adapters for connecting legacy peripherals.
Battery
The Google Pixelbook has an impressive battery lasting up to 10 hours on a single charge.
It comes with fast charging technology, which allows you to charge the laptop for up to 2 hours of use in just 15 minutes.
This means you can use it all day without worrying about running out of power.
Google Assistant
The Google Pixelbook has built-in Google Assistant, allowing you to access information, set reminders, and perform tasks with just your voice.
Value of Money
It is relatively more expensive compared to other Chromebook models on the market. However, its premium build quality, powerful performance, and seamless integration with the Chrome OS ecosystem make it a worthwhile investment for users prioritize productivity and versatility.
Final Thoughts
Overall, the Google Pixelbook Chromebook offers impressive performance and portability, but it comes with a price tag and lacks some features which need to be taken into consideration before making a purchase decision.
It may be a good choice for those who prioritize performance and portability and are willing to pay a premium price for those features.
Our Recommendation
The audio quality is adequate for watching videos, video conferencing, or listening to music. However, for a truly immersive audio experience, external speakers or headphones are recommended.
Frequently Asked Questions (FAQs)
Is a Google Pixelbook 12in a tablet or a laptop?
The Google Pixelbook primarily operates as a laptop. The device has a 12.3-inch display with a 360° hinge that allows you to fold the screen back like a tablet or stand it up in tent mode for watching movies or giving presentations.
Can I install Windows 10 on Google Pixelbook 12in?
You cannot install Windows 10 on the Google Pixelbook 12in. This device runs Chrome OS and does not support any other operating systems. However, some virtualization software options allow you to run a Windows environment within Chrome OS, allowing you to use Windows programs without installing an alternative operating system.
Does Google Pixelbook have a 4k display?
No, the Google Pixelbook 12in does not have a 4K display. The device has an IPS LCD having a resolution of 2400 x 1600 pixels and 400 nit brightness, making it capable of displaying crisp visuals and vibrant colors.