Technology
How to Find a Reliable Crypto Exchange: A Guide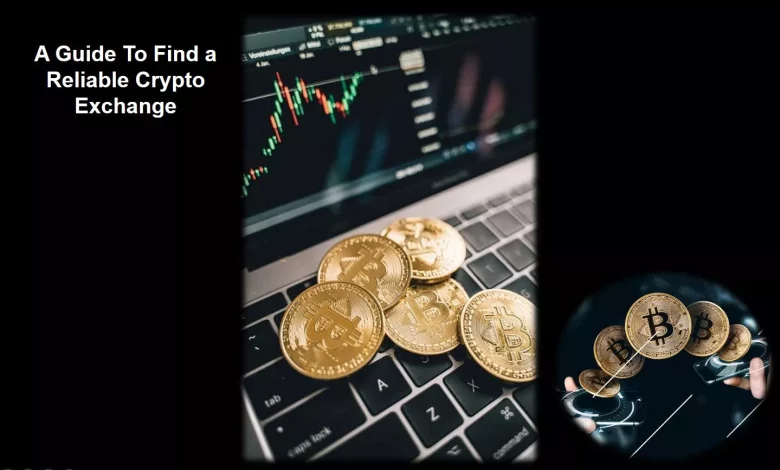 Did you know that Bitcoin transactions take around 1 to 1.5 hours to complete?
This is because the Bitcoin blockchain needs around six confirmations within the blockchain to confirm the transaction. While you may be frustrated with the transaction time, this process helps make transactions incredibly safe for everyone involved.
However, sending money with a crypto exchange is far more efficient. This is because the crypto exchange will let you send crypto instantly while the transaction gets processed in the background. This is why it's so important to find a crypto exchange that you can use to invest in the crypto market.
Want to learn more about the various crypto exchanges? Here's a complete guide on what a crypto exchange is, how they work, and how to find the best one for you.
The Crypto Market
Even though the crypto market has shrunk in the last year, the entire market is still massive. The current crypto market is valued at over $1 trillion, making it one of the leading financial markets in the world. However, investing in this space does come with its fair share of risk.
The crypto market is based on cryptocurrency, the blockchain, and a decentralized structure. This decentralized structure is what makes crypto so appealing to people around the world. Since you don't have to go through a central authority, transaction times are slashed significantly.
If you think about a traditional, international transaction. You would first need to get approval from your central bank; the currency would need to be exchanged, then the funds would be sent to the other country. This takes time and can cost you an arm and a leg in fees.
Crypto breaks through all those boundaries and lets you send funds directly to people worldwide. This is where crypto exchanges make your life easier. Crypto exchanges enable people worldwide to send, accept, hold, and transfer that crypto into cash.
What is a Crypto Exchange?
A crypto exchange is a digital platform that enables you to interact with cryptocurrencies. This platform makes it easy for individuals to buy, sell, hold, and transfer crypto assets. The platform simplifies the entire crypto industry so that retail investors can start building a crypto portfolio for themselves in no time.
Crypto exchanges don't just let users buy one kind of cryptocurrency. In most cases, crypto exchanges host several cryptos that people can buy, trade, or convert their assets into. This makes it easy for investors to learn about new opportunities and quickly buy into them.
Crypto exchanges have evolved over the years to include smaller crypto and even crypto-based products like NFTs. This means that you can hold all your crypto assets in a single platform.
This simplifies your entire portfolio, as you don't have to worry about keeping different assets all over the place.
What does a Crypto Exchange do?
A crypto exchange operates in the same way as a financial broker. In the traditional financial market, a broker is a middleman between the investor that wants to buy and the person that wants to sell. Crypto exchanges operate in the same way and connect buyers to sellers.
The best thing about crypto exchanges is that they can do this in record time. If you wanted to sell crypto privately, you would have to advertise, find a buyer, negotiate a price, and take the risk of transacting with them. Crypto exchanges make everything easy as they've built immense networks of investors that can guarantee your sale anytime.
This means that you can sell your crypto position almost instantly. The actual transaction will happen in the background, but you'll see the cash reflected in your exchange account instantly. Once the actual transaction goes through, you'll also be notified of that.
However, you don't have to wait for that transaction to start investing in another asset. This means you can instantly sell and buy another crypto on a crypto exchange. Since you don't have to wait around for the transaction to complete, you can take advantage of every opportunity that arises in the market.
How does a Crypto Exchange make Money?
Most crypto exchanges are free to sign up for. This makes many people wonder how these exchanges make money in the first place. The truth is that crypto exchanges take a small transaction fee every time you buy or sell crypto on their platform.
This fee is usually tiny and less than a percent of the transaction. However, a few crypto exchanges don't charge this fee at all. These crypto exchanges make money by selling your order to other brokers.
This is called 'payment for order flow' and is a very controversial topic in the investing space. Essentially these brokers will take your buy order and sell it to another broker for a small fee. That broker will then try and fulfill your order for a cheaper price so that they can benefit from the slippage.
If you're wondering what is slippage in crypto, it's basically the price difference from when you place your buy order to when the order goes through.
This is a great way to save investors some money, but it does seem disingenuous to the investor. This is why many prefer to pay that small fee for your transaction but get the best price possible at that time. This is more transparent and honest.
Popular Crypto Exchanges
When it comes to crypto exchanges, there are a few big names that you must have heard of by now. These big names have been around for a while and hold billions of dollars in assets. This is important to note as your money is less at risk with larger institutions.
While each exchange will have different fees and rules, they all operate in a very similar way. Here's a quick look at the best crypto exchanges that you should look into this year.
1. Coinbase
Coinbase is a crypto exchange founded in 2012 to help people trade Bitcoin. The platform has expanded over the years and is one of the largest exchanges today. You can buy hundreds of different assets on Coinbase with relatively low fees.
Coinbase also hosts educational courses on the platform. These courses are designed to help investors learn more about the crypto space. This is a really important feature as it will let you make better, smarter financial decisions.
2. Binance
Binance is another massive platform that operates in almost every country in the world. This crypto exchange has evolved and even has its own cryptocurrency, Binance coin. Binance holds billions of dollars in assets, making it one of the biggest names in the crypto space.
While Binance is not regulated the same way as traditional banks, the platform is incredibly secure and transparent. This will help you trade hundreds of different cryptocurrencies with ease.
3. Crypto.com
Crypto.com is a popular crypto exchange that charges incredibly low transaction fees. In most cases, you're going to pay anywhere from 0% to 0.075% on your transaction. This is significantly cheaper than other platforms on the market.
Crypto.com lets you buy, sell, transfer, or hold all kinds of crypto. This makes it the best place to build your crypto portfolio today.
4. Cash App
The Cash App may be popular for sending and receiving money, but it's also known as the best platform to buy and hold Bitcoin. The benefit of using Cash App is that you don't have to go out and get another brokerage just for crypto.
Cash App is the perfect solution for those that just want to keep some money in Bitcoin. While it's not recommended for crypto portfolio building, it's perfectly fine for holding small amounts of crypto from time to time.
5. Robinhood
Robinhood is one of the most loved and hated platforms on the market today. Robinhood rose to fame during the pandemic as retail investors wanted to invest their extra money. However, recent scandals have shed a rather glim light on the entire platform.
Despite this, Robinhood remains one of the most popular investing apps on the market. This is because Robinhood lets investors buy stocks, bonds, options, and crypto all in one place. This means that you don't need a separate brokerage account just for crypto.
Everything in one place can help you create and maintain your entire investment portfolio. This will also let you instantly sell stock to buy crypto, helping you take advantage of opportunities.
How to Find a Reliable Crypto Exchange?
If you're looking for a reliable crypto exchange, there are a few factors that you should always keep an eye out for. These factors include security, ease of access, and supported assets. Here's a quick look at these important factors.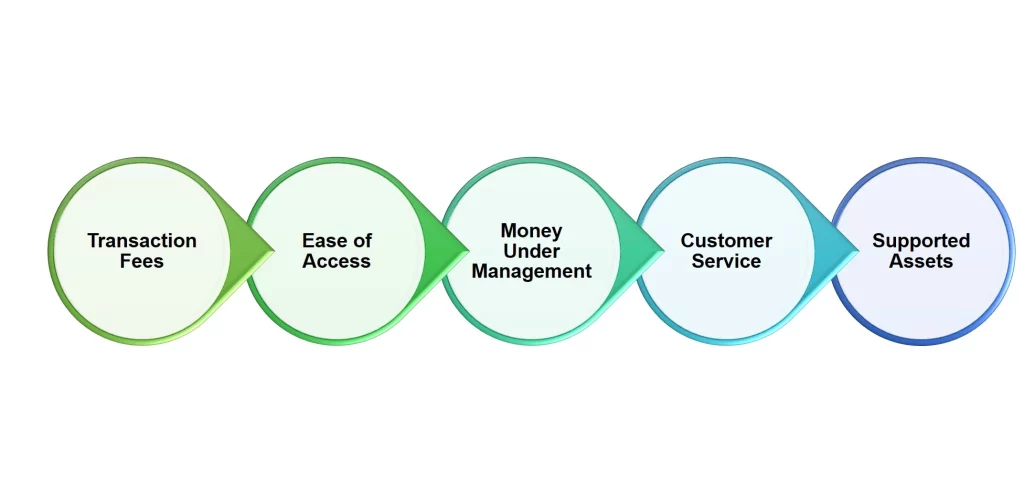 Transaction Fees
The first thing that you should look at when choosing a crypto exchange is how expensive it is. At the end of the day, you don't want to be stuck on a platform that costs you an arm and a leg just to transfer your money.
Ease of Access
Ease of access is another essential factor to keep in mind. This is because you want to work with a platform that's always online and available for you to trade. This way, you always have access to your funds no matter where you are in the world.
Money Under Management
The amount of money a company has under management is a very important factor. This will let you know how trusted the company is by institutional investors. Smaller companies come with more risk and could potentially go bankrupt, losing your money in the process.
Customer Service
Customer service is important in any business. You want to partner with an exchange that is there to help you if anything goes wrong. This is why you should always read some online reviews of the platform before signing up.
Supported Assets
There's no point in signing up for an exchange to buy Bitcoin if that exchange doesn't sell Bitcoin. This is why you should look at what assets that platform offers to investors.
Signing up for a Crypto Exchange Account
Signing up for a crypto exchange account has never been easier. This is because the entire process can be done online in just a few minutes.
Everything will start with an initial application form. This form will ask for your name, surname, and email address. Most platforms will then send you a confirmation email to let you verify that your email address is your own.
Once your email address is verified, you can complete the application and access your account. It's really that simple!
If you're wondering how to fund your account, that's effortless as well. Most crypto exchanges will have a USD account that you can fund. When you fund the account, you'll be given a few options to pay by credit card, PayPal, or bank transfer.
Once you've completed the payment, your funds will be reflected in that account.
Start Trading Crypto Today
While the crypto market has fallen from its all-time high, there are still tons of opportunities in the space today. This is why experts worldwide are keen to start investing in crypto again. However, it's important to find a reliable crypto exchange before you make your first investment.
If you want to learn more about the crypto world, browse through some of the other exciting crypto articles on our website!