Technology
Cosmo VPN: Secure and Fast Proxy for All Devices

Sometimes, you have to face the problem of browsing a specific website by receiving an error message and could not get access to the content of that website.
In that situation, you don't have to worry about that. Here is a solution to anonymise access to blocked web pages.
Cosmo VPN is an application used to access web pages geographically blocked in your regions.
This VPN app enables you to browse any restricted web page safe, secure, free, fast, reliable and unlimited by hiding your IP address and location.
All of this is happening just because of the tremendous increase in technology. The developers are very much engaged in developing more and more applications that would have been comparatively better than the developed ones.
This can be used on all platforms such as windows, Mac, Android and IOS operating systems.
Cosmo VPN for PC or Windows:
Cosmo VPN is mainly developed for mobile users, whether they are windows, android or IOS users. You can use its feature on your PC by installing its browser extension in your web browser.
You can download the Cosmo VPN extension from browser web stores to protect your privacy and browse privately for accessing blocked websites. No particular configuration is required to install or use it in your system. You are just one click away from anonymous browsing.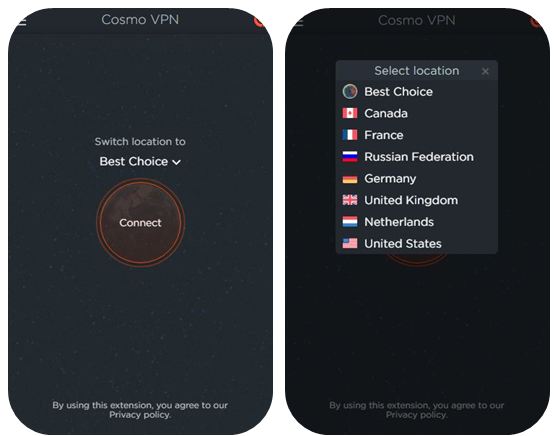 Its browser extension supports all versions of windows, i.e., Windows 7, 8, 10 and 11. As far as the windows versions are upgraded, the developers of Cosmo VPN extended its features to make it compatible with all versions.
Weather to download and install the executable version of this application into your system hard drive, its extension is available in the web stores of all popular browsers such as Google Chrome, Microsoft Edge, Mozilla Firefox etc.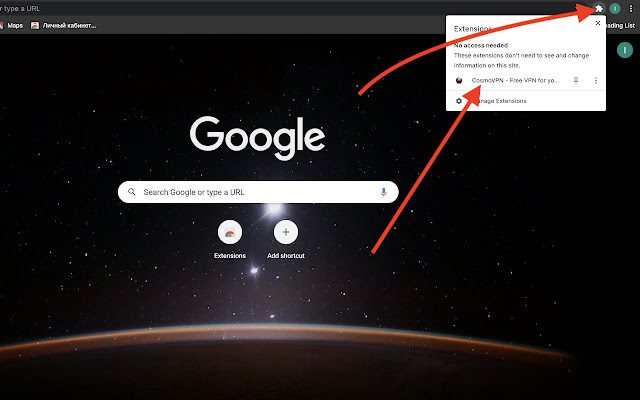 Cosmo VPN for Android:
If you are an android user, it would be great to have such type of fast, secure, unlimited proxy for anonymous browsing. Cosmo VPN is available in almost all android versions. However, in some upgraded versions, it is known as Cosmos.
Cosmo VPN for iOS:
You can also enjoy with this proxy in ios related devices such as iPhones, iPad or iPods. Your current geographical location and IP address become un-traceable to everyone when using this VPN service.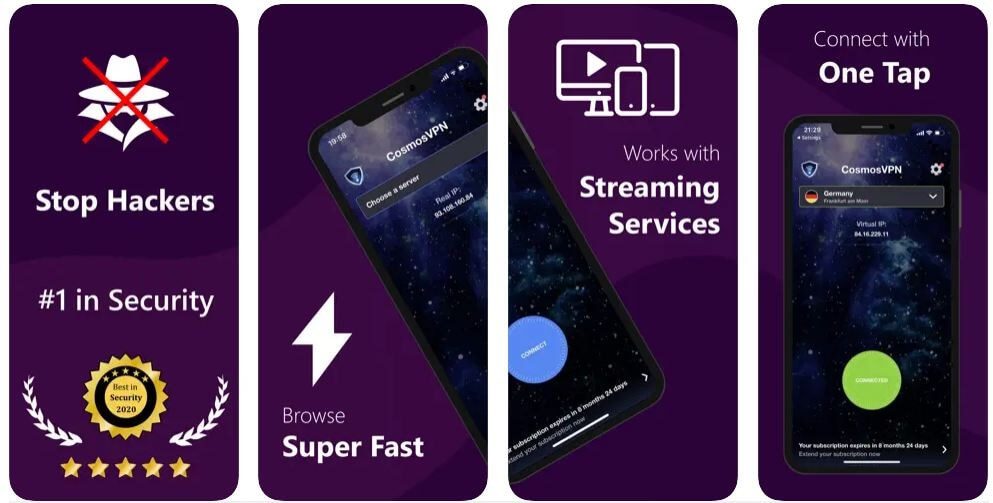 Why do you use Cosmo VPN?
When connected to the internet, hacking or stealing your personal information from hackers is possible. Cosmo VPN provides the service to connect with the internet by using servers of any other region and hiding your current IP address, so you can easily use the internet, and nobody could access you in any way.
Sometimes you observe that WebPages are not accessible in your location due to restrictions to block irrelevant, illegal or malicious traffic. Still, you want to access it anyway to get that website's content. For this purpose, Cosmo VPN helps unblock those region-restricted websites.
What are the Features of Cosmo VPN?
The various features of Cosmo VPN are here, which attract the users' attention towards it:
Browse the internet safe & secure: With the help of Cosmo VPN, nobody can track your activities or hack your essential information on the internet.
Easy to use and user-friendly: It is lightweight and easy to install, and its user interface is amicable.
Access blocked or restricted websites: This is the main feature of Cosmo VPN. Region-restricted websites can be accessible with the help of this proxy.
Unlimited access: You can use its features without any limitation.
No registration required: Cosmo VPN is absolutely free. No registration or subscription is required at any stage.
No configuration required: Its use is straightforward; you don't have to configure it. Its connection is just one click away. By clicking on connect, you can suffer the internet anonymously.
Fast browsing with high-speed bandwidth: This VPN application or extension provides high-speed browsing compared to other virtual private networks; it does not slow down your internet connection.
Multiple servers: Different servers representing different regions are available in Cosmo VPN; you can select anyone of your choice to hide your graphical location.
You may also read: How to Fix Urban VPN Connection Error?