Technology
Tips to Update Your Resume to Make it Stand Out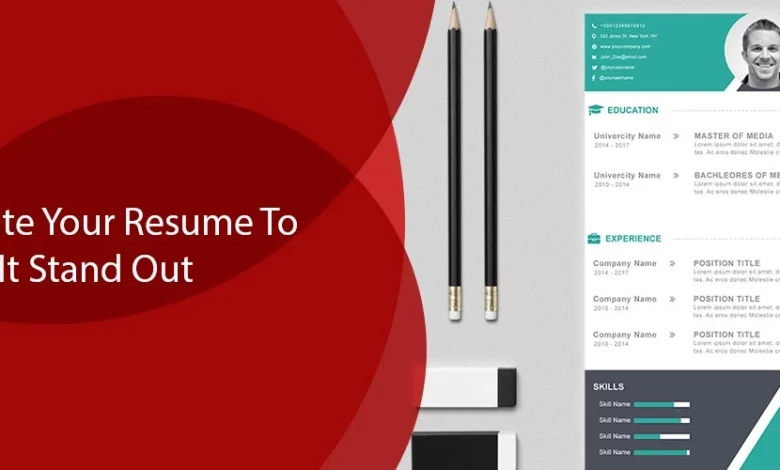 How many times have you updated your resume in the last few months? Forget updating; how many times have you even looked at your resume in the past 2-3 months? Usually, we don't look at or update it at all unless there is a job opportunity and we want to apply.
We are all guilty of making and storing our resumes in some corner of our homes (or in a folder on our computer) and just forgetting about it until the next job opportunity comes knocking.
While it is true that you don't need that piece of paper except only in certain situations, it is still something that you have to maintain and design in a proper format. After all, what is the purpose of a resume?
It is something that gives your possible employers an idea of not only your experience but who you are as a person. So, a resume should always be designed with that in mind and also updated regularly.
There are some more things you can do to improve your resume and make it stand out.

Let's see what these are.
1. Update Your Skillset
Most resumes have a skills section present somewhere. In this section, you can highlight any skills that you have that might be suitable for the position you are applying for.
Although this section may not seem as important to some people, it is definitely helpful and like an additional point in your resume.
So, how can you use this to your advantage? Aside from adding basic skills like proficiency with Microsoft Excel, etc., you should look to add skills that aren't common to come across.
First, you'll need to take some classes or workshops to increase your skill set. Skills that will get your employer's attention will naturally require some form of effort on your end.
If you want to ensure your resume sticks out, you'll need to brush up on your skills and update that resume.
2. Check the Keywords
While this is something you will probably only hear if you are a content writer or marketer working on content, this is something that holds importance even in your resume.
Just like how most employers are looking for potential recruits on LinkedIn, some might be looking elsewhere as well. There are many ways and software to track down the ideal or close to the ideal resume for any employer. And the way they do this is by the use of keywords.
If somebody is looking for a 'Digital Marketing Specialist', they'll have a specific set of keywords that they will search for, and eventually, they will be connected to the right profile or resume.
To make sure you are on that list, familiarize yourself with common keywords that could be used and incorporate them into your resume.
3. Change the Formatting
Formatting and designing are two of the most important parts of a resume. However, it is not the core of your resume unless you are a graphic designer or something along those lines.
Nevertheless, it doesn't mean that you should completely ignore that and submit a sub-par resume. The readability and aesthetic of your resume also matter in setting an impression.
If you want ideas on the type of resume you should design or edit, you will find plenty of templates online that you can use as ideas or just edit to add your information on there. To edit some of these templates, you will have to download them first.
Before you go ahead and download just anything, you should be cautious of whether there is an underlying virus or threat to your system.
To avoid anything like this, just be sure to have a trustworthy internet connection, like one of the many Xfinity Internet packages that will keep your computer safe from any harm.
4. Add the Latest Contact Details
Often, people forget to update their contact information, which is one of the most important things in a resume. How else will the employer contact you if not on the number or email you provided on your resume?
So, if you have changed your number or have two different numbers, you should provide the one you are more likely to use.
As for email addresses, you should provide a professional one (and not the embarrassing one you made when you were 13 years old).
Other than that, keep your phone active and check your email, even the spam folder, so you don't miss anything.
5. Proofread
Proofreading is the one thing that will never change, whether you are in school or you are working in a multinational company.
Whatever document you have or report you to submit, you ALWAYS proofread. The same applies to your resume. You can't submit it without proofreading it first.
Every time you submit the resume, you should always check everything about it, minor and major details, and then click send.
An additional step is to ask your family or friend to proofread or review the resume as well and give their input on it. This way, they might be able to capture something you might have missed.
You never know; they might even give you some expert advice that you could add to your resume.
Conclusion
Keep in mind that the people going through your resume have been through hundreds of them, all from different people with different backgrounds.
This is how they have learned to see past that one paper and assess the abilities and talents of the person sitting in front of them at the interview.
This is why you are advised to be genuine and showcase your talents. The key to a successful interview is a well-designed resume with all the important factors and a modest yet confident attitude at the time of the interview.
So, if you want to be a successful candidate, start with your resume, as that is the first impression you'll give your possible future employers. And if you succeed there, you can go on to exceed their expectations in the interview and so on.