Technology
Boost Your System's Performance with the Best DDR5 RAM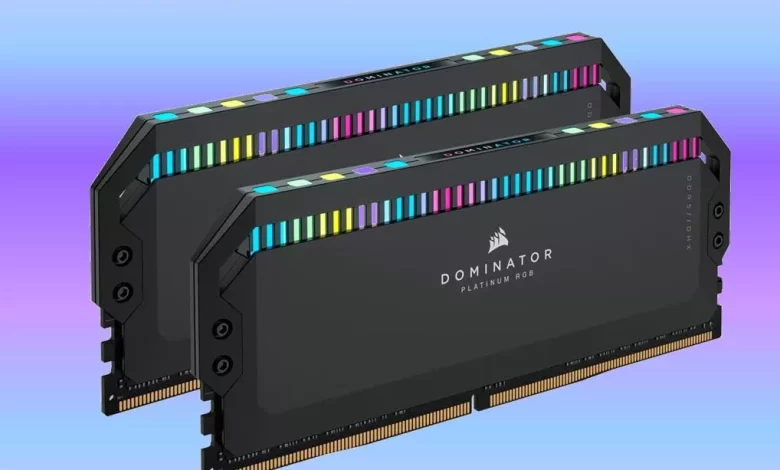 Boosting up your computer with DDR5 RAM is one of the best ways to improve performance and reach higher levels of productivity. The new and improved design of this memory offers more power, speed and data transfer features than ever before.
DDR5 RAM helps you to handle all your computing tasks in quickly and efficiently with its advanced architecture and fast data bus frequency.
What is DDR5 RAM?
DDR5 is the latest generation of Random Access Memory (RAM) which is designed to deliver faster data transfer and memory access speeds while consuming less power.
It has twice the speed of DDR4 technology and can extend system bandwidth by up to 50%. Improved error correction technology, built-in memory protection and data integrity checks make DDR5 RAM more reliable and durable than ever.
Upgrading your system with DDR5 RAM ensures that your computer remains stable and secure even under the most intense workloads.
DDR5 RAM is perfect for those who want a smooth gaming experience, improve system performance and speed while keeping power consumption low.. It also supports applications that require high-speed data transfer and memory access, such as Video editing and streaming.
With increased speed and energy efficiency, DDR5 RAM is the perfect upgrade for any PC or laptop.
Advantages of Using DDR5 RAM
The advantages of switching from DDR4 to DDR5 RAM are numerous and clear: the improved speed, data transfer capabilities, and increased power efficiency can help you get more tasks done faster than ever before.
Moreover, its robust design ensures that your system remains reliable despite the most intensive workloads.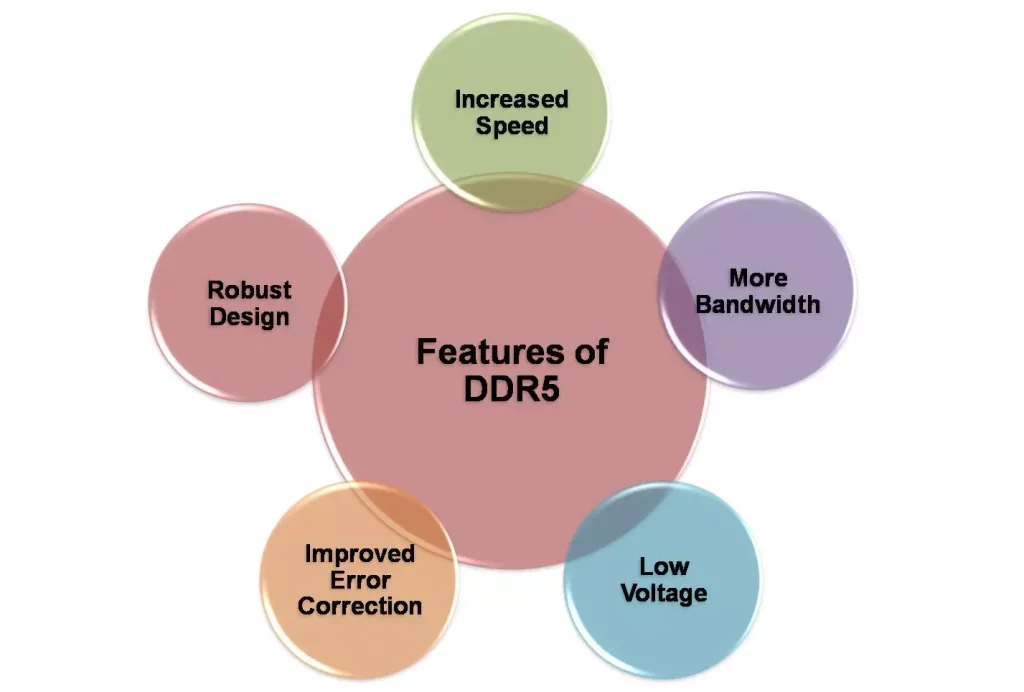 Increased Speed – DDR5 RAM has twice the speed of DDR4 technology, allowing faster data transfer and memory access.
More Bandwidth – This RAM can expand system bandwidth by up to 50%, letting you quickly move large files.
Low Power Consumption – DDR5 is power-efficient, consuming less energy and reducing heat generated.
Improved Error Correction – With built-in memory protection and data integrity checks, DDR5 RAM is more reliable than ever before.
Robust Design – Advanced features like enhanced error-correction technologies ensure that your system remains stable and secure.
With these features, it is the perfect choice for anyone requiring a smooth gaming experience or transferring large files quickly. Upgrade your system today and take full advantage of the superior performance that DDR5 RAM can provide!
Features Comparison Between DDR5 and DDR4 RAM
Here's a tabular comparison of the key features:
| | | |
| --- | --- | --- |
| Feature | DDR4 | DDR5 |
| Speed | Lower speeds (e.g., up to 3200MHz) | Higher speeds (e.g., up to 8400MHz) |
| Bandwidth | Lower bandwidth (compared to DDR5) 25.6 GB/s and 38.4GB/s respectively | Increased bandwidth (e.g., 4x or more) 64 GB/s to 128 GB/s |
| Power Consumption (Voltage) | Higher voltage (around 1.2V to 1.35V) | Lower voltage (around 1.1V) up to 40% reduction |
| Capacity | Lower capacities (typically up to 32GB) | Higher capacities (up to 128GB and beyond) |
| Error Correction | Limited error correction capabilities (Error correction through ECC) | Enhanced error correction technologies with built-in memory protection and data integrity checks (Support for on-die error correction) |
| Power Efficiency | Lower power efficiency compared to DDR5 | Improved power efficiency |
| Latency | Higher latency compared to DDR5 | Potentially lower latency |
| Thermal Management | Adequate thermal management | Enhanced thermal management |
| Refresh Rate | Traditional refresh interval (8x or 16x) | Refresh interval reduction (e.g., 32x) |
| On-Die Termination | Termination resistors on motherboard | Improved signal integrity |
| Reliability | Moderate to High | Highly Reliable |
Which is the Best DDR5 RAM?
Some of the top-rated DDR5 RAM options on the market today include:
Corsair Dominator Platinum RGB DDR5
G.Skill TridentZ Royal
Kingston HyperX Predator
Each of these RAM options offers excellent performance and reliability, so it's up to you to decide which one best meets your needs.
By investing in DDR5 RAM, you can enhance the performance of your system while enjoying improved speed, bandwidth, power efficiency and reliability.
1. Corsair Dominator Platinum RGB DDR5 RAM
The Corsair Dominator Platinum RGB DDR5 RAM is a top-of-the-line option for those seeking uncompromising performance.
With speeds starting at 6000MHz and capacities ranging from 16GB to 128GB, this RAM module delivers exceptional speed and responsiveness.
The stunning RGB lighting adds a touch of flair to your system, while the meticulously designed heatsinks ensure optimal thermal management, allowing for prolonged performance under heavy workloads.
2. G.Skill Trident Z Royal DDR5 RAM
If you want both performance and aesthetics, the G.Skill Trident Z Royal DDR5 is an excellent choice.
This RAM module combines high-frequency speeds (starting at 6400MHz) with a dazzling design featuring crystalline light bars and polished aluminium heat spreaders.
The Trident Z Royal DDR5 is available in various capacities, ensuring compatibility with different system configurations.
3. Kingston HyperX Predator DDR5
Known for its reliability and high-quality products, Kingston offers the HyperX Predator DDR5 RAM, perfect for gamers and power users.
With speeds ranging from 4800MHz to 6600MHz, this RAM module provides lightning-fast data transfer rates, reducing latency and improving overall system responsiveness.
The aggressive black heat spreader design enhances heat dissipation and adds a sleek look to your system.
Corsair DDR5 RAM is an excellent choice if you're looking for high speeds and bandwidth while also saving money on power consumption. It offers enhanced error correction technologies with built-in memory protection and data integrity checks to ensure the reliable operation of your system.
However, its costlier price tag and limited compatibility with some motherboards and CPUs may hinder some. Ultimately, weighing the pros and cons before investing in Corsair DDR5 for your gaming PC is best.
Does DDR5 RAM Support only 12th Gen or latest Processor?
No, DDR5 RAM is compatible with a variety of systems. Initially, it was designed to work with the Intel 12th Gen processor,but it is also compatible with previous generations, such as 10th and 11th generation processors.
Some AMD Ryzen-based systems can also be benefitted with this memory. Upcoming generations of Intel and AMD chipsets are also expected to support DDR5 memory.
Does DDR5 RAM Useful in Gaming?
Yes, it can make a difference in gaming performance. This Random Access memory can reduce stuttering and lag while gaming with faster data transfer speeds and improved memory access.
The increased power efficiency of DDR5 RAM also helps extend battery life on laptops and other portable devices. Investing in DDR5 can improve your gaming performance and provide a more enjoyable experience.
How much DDR5 RAM should be required for a Gaming PC?
The amount of DDR5 RAM you should purchase for your gaming PC depends on the type of games you plan to play and the other components of your system.
Generally speaking, 8GB is enough memory for most gamers, but if you want to run higher-end games or multitask, 16GB or even 32GB may be more appropriate.
Conclusion
Having high-speed data bus frequency and advanced architecture, DDR5 RAM is the perfect choice for anyone looking to boost their system's performance and reduce power consumption.
A DDR5 RAM upgrade ensures your system remains stable and reliable for years to come. Its increased speed, energy efficiency and data transfer capabilities make it an ideal choice for those who want more storage space or need to access multiple applications at the same time.