Gaming
PlayerAuction: A Trading Platform for Gamers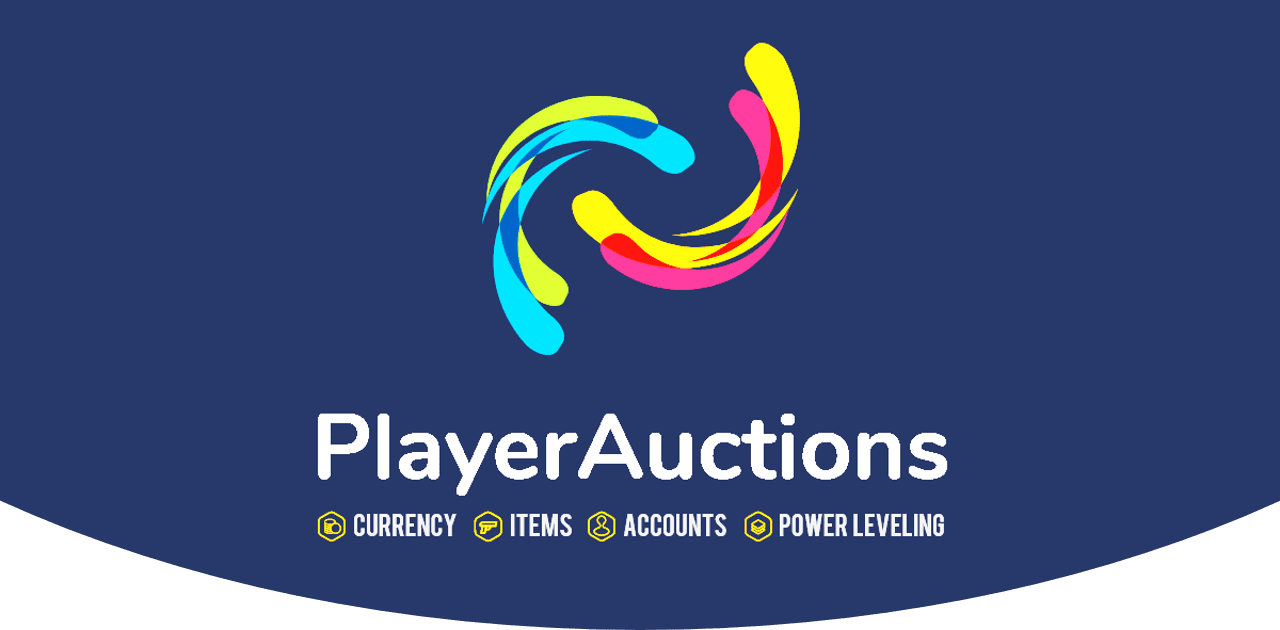 Playerauction is a digital marketplace where gamers can securely buy and sell gaming products, tools, codes, keys, game accounts, skins, themes, power levels, weapons, etc.
Selling and buying gaming assets was not as easy, secure, and reliable as developing a fantastic web-based trading place called Playerauction.
Playerauction was initially developed in 1999; through the time, many changes were made to its database according to the development of different types of popular games.
This platform was re-launched in 2008 by focusing on its primary goal of person-to-person trading.

List of Games with their Gaming Assets at Playerauctions
So many popular games of different genres are available at player Auction and provide gaming assets for selling and buying purposes to game lovers who can use them while playing.
The gaming database that can be found at playerauction is categorized below:
A
Adventure Quest Adventure Quest 3D Adventure Quest Worlds AFK Arena
Aion Classic
Aion Online
Albion Online
Alchemy Stars
Animal Crossing: New Horizons
Animal Jam
Anthem
APB Reloaded
Apex Legends
Apex Legends Mobile Arcadegeddon
Arcane Legends
ArcheAge Online
ArcheAge Unchained
Arena of Valor
ARK: Survival Evolved Arknights
Ashes of Creation
Asphalt 9: Legends
Astellia Online
Aura Kingdom
Avakin Life
Azur Lane
B
Back 4 Blood
Battlefield 1
Battlefield 2042
Battlefield 4
Battlefield 5 Battlegrounds Mobile India
BattleNet
Black Desert
Black Desert Mobile Blade and Soul
Bleach: Brave Souls
Bless Unleashed
Blue Archive
Boom Beach
Borderlands 3
Brawl Stars
Brawlhalla
Broken Ranks
C
Call of Duty
Call of Duty Mobile Captain Tsubasa: Dream Team
Castle Clash
Champions Online Chimeraland
Clash of Clans
Clash of Kings
Clash Royale
Conquer Online 2 Conqueror's Blade
Cookie Run: Kingdom Corepunk
CrossFire
Crossout
Crowfall
Cyberpunk 2077
D
DarkOrbit
Dauntless
DC Universe Online
Dead by Daylight
Dead Frontier
Dead Frontier 2
Destiny 2
Diablo 2
Diablo 2 Resurrected Diablo 3
Diablo Immortal
Digimon Masters Online Dofus Dofus Touch
DOTA 2
Dragalia Lost
Dragon Ball Legends Dragon Nest
Dragon Raja
Dual Universe
Dungeon Fighter Online Dungeons and Dragons
E
eFootball PES
Elden Ring
Elder Scrolls Online Elite:Dangerous
Elsword Online
Elyon: Ascent Infinite Realm
Empires and Puzzles Enlisted Epic Games Escape From Tarkov
EVE Echoes
EVE Online
EverQuest
EverQuest II  
F
F1
Fall Guys: Ultimate Knockout
Fallout 76
Fate Grand Order
FIFA Mobile
FIFA Ultimate Team
Final Fantasy XI
Final Fantasy XIV
Final Fantasy XV: A New Empire
Fire Emblem Heroes
FlyFF Universe
For Honor
Forge of Empires
Fortnite
Forza Horizon 4
Forza Horizon 5
G
Gaia Online
Game of Thrones Winter is Coming
Garena Free Fire
Genshin Impact
Gloria Victis
Gran Turismo 7
Granblue Fantasy
Grand Chase
Grand Summoners Growtopia
GTA 5 Online
Guardian Tales
Guild Wars
Guild Wars 2
Gwent
H
Habbo
Halo Infinite
Hay Day
Hearthstone
Hero Wars
Heroes of Newerth Heroes of the Storm Honkai Impact 3rd Honkai: Star Rail
Hunt: Showdown
I
Identity V
Idle Heroes
Illusion Connect
IMVU
Infinity Kingdom
J
K
King of Avalon
KonoSuba: Fantastic Days
L
Last Oasis
Last Shelter: Survival League of Angels
League of Legends
League of Legends: Wild Rift Left 4 Dead 2
Legends of Runeterra Lineage 2
Lineage 2: Revolution Lineage 2M
Lord of The Rings Online Lords Mobile
Lost Ark
M
Madden NFL
Madden NFL Mobile Mafia City
Magic: The Gathering Arena
MapleStory 2
MapleStory Global MapleStory
M Marvel Contest of Champions
Marvel Strike Force
MARVEL Super War
Marvel: Future Fight Metin 2
Mihoyo
Minecraft
MIR4
MLB The Show
Mobile Legends
Monster Hunter Rise Monster Hunter: World Mortal Kombat
Mortal Kombat
Mobile Mortal Online 2 Myth of Empires
N
NARAKA: BLADEPOINT Naruto Online
NBA 2K
Neopets
NeverWinter
New World
NHL
Nier Reincarnation Nintendo Switch
No Man's Sky
O
One Piece Treasure Cruise Origin
Outriders
Overwatch
Overwatch 2
P
Paladins
Path of Exile
Phantasy Star Online 2 Phantasy Star Online 2: New Genesis Phasmophobia
Pixel Worlds Playerunknowns Battlegrounds
PokeMMO
Pokémon Brilliant Diamond and Shining Pearl Pokémon Games Pokémon Go
Pokémon Legends: Arceus
Pokémon Sword and Shield
Princess Connect Re Dive PSN
PUBG Mobile
Punishing: Gray Raven Puzzle & Dragons
Puzzles & Survival
Q
R
RAGE 2
Ragnarok M: Eternal Love Realm of the Mad God
Red Dead
Redemption 2
Revelation Online
Revived Witch
Rift
Rise of Kingdoms
ROBLOX
Rocket League
Rogue Company RuneScape
RuneScape – Old School RUST
S
Saint Seiya Awakening SCUM
Sea of Thieves
Second Life
Seven Knights 2
Shakes and Fidget SINoALICE
Smite
Soul of the Ultimate Nation
Soul Worker
Stalker Online
Star Citizen
Star Trek Online
Star Wars Battlefront II
Star Wars: Galaxy of Heroes
Starbase
State of Survival
Steam
Summoner's War: Lost Centuria
Summoners War Summoners War Chronicles
Swords of Legends Online SWTOR
T
Tanki Online
Team Fortress 2 Teamfight Tactics
Temtem
The Cycle: Frontier
The Division 1
The Division 2
The Elder Scrolls: Legends The Grand Mafia
The Seven Deadly Sins: Grand Cross
The Sims 4
Tibia
Tiny Tina's Wonderlands Tom Clancy's Rainbow Six Extraction
Tom Clancys Rainbow Six Siege
Top War: Battle Game Toram Online
TORN CITY
Tree of Savior
Trove
U
Ultima Online
Unison League
Uplay
Urban Rivals
V
V4
Valheim
Valorant
Vindictus
W
Wakfu
War of the Visions: Final Fantasy Brave Exvius
War Thunder
Warface
Warframe
Wargaming
Warpath
Wizard101
Wolcen: Lords of Mayhem World of Tanks
World of Tanks Blitz
World of Warcraft
World of Warcraft Classic World of Warcraft: Burning Crusade Classic World of Warships
World War Z
X
Xbox
Xenoblade Chronicles 3
Y
Yu-Gi-Oh Duel Links
Yu-Gi-Oh Master Duel
Z
#
9 Dragons
4Story
8 Ball Pool
List of Games providing that provided their gaming assets at PlayerAuctions marketplace
How Playerauction works?
As you know, "A picture is Worth a Thousand Words." Similarly, a graphical representation is given below to understand the phenomenon of the functionality of playerauction: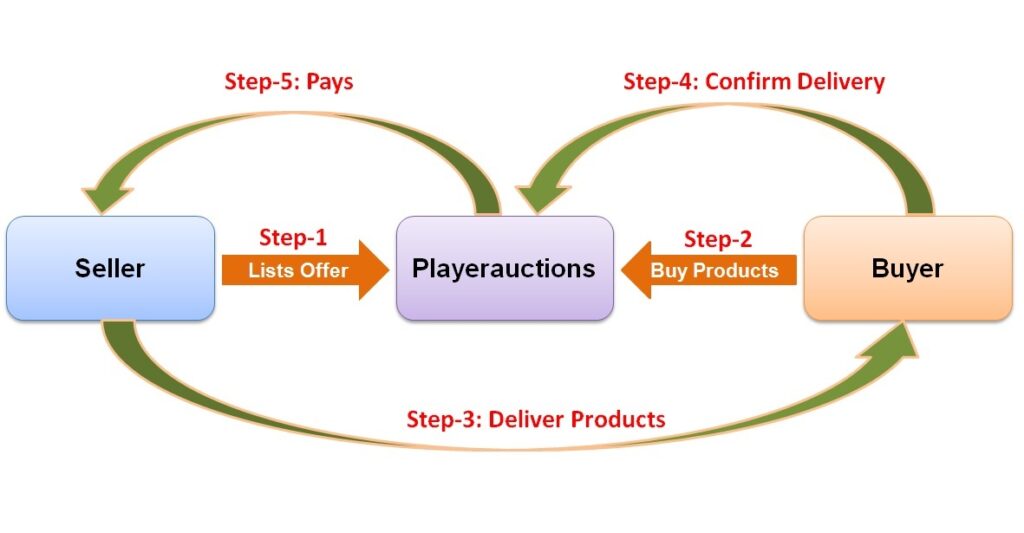 Please note that you have to register with the Playerauction platform before starting trading. After logging in, you can use all its features.
Step 1:
The players who want to sell their gaming assets send the bid to PlayerAuctions to accept by someone on the marketplace which needs that product..
Step 2:
Other players interested in the auctioned asset accept the offer and buy to use that tool in your game. The buyers pay the amount to Players Auction and PlayerAuction retain that amount in its wallet until delivery of the product by the Sellers.
Step 3:
The Seller delivers the product to the buyer and wait for the payments.
Step 4:
When the buyers receive the desired asset, the buyers confirm the delivery of that asset to PlayerAuctions.
Step 5:
In the last step, PlayerAuction pays out to Sellers against their sales product.
Features of the Playerauction Gaming Marketplace?
The web-based games and their gaming assets are intangibles and could not be possible to buy and sell physically. In this sense, Playerauction provides an opportunity for gamers worldwide to get familiar with this platform for buying and selling gaming assets to utilize in their favorite games to amuse themselves.
This trading platform has plenty of unique features that will grab your attention and answer why you would not use this platform.
Global community:
A global marketplace is provided for both; sellers and buyers to compete for supply and demand in the world. A vast collection of products or gaming assets is available on this user-friendly interface with simple browsing and competitive pricing.
Protection of fraud
The team of PlayerAuctions focuses on controlling risk management, third-party services, and machine learning technology to protect illegalities in the services being provided. So, there is no need to worry about non-payment or non-delivery of intangible assets. Trading risk is also minimized as the Seller will not be paid until the buyer confirms receipt of the product or service from the Seller.
Timely Payments:
PlayerAuctions pays the sellers timely against their sales by connecting multiple banks or third-party payment service providers across the world. This platform uses APIs to enable sellers to receive payments on time automatically.
Security:
All your personal and payment-related information is kept secure using secure socket layer technology (SSL), following industry standards and two-factor authentication.
Competitive Pricing:
For Buyers: Competitive pricing due to the global liquid market.
For Sellers: No need to pay extra costs except a minor fee for using the services of PlayerAuction in the shape of a flat commission.
In case of any fraudulent transaction occurs, PlayerAuction will only bear it.
Due to its extraordinary features and valuable services to users, it has become a trendy platform among gamers around the globe.
Read Also: GetMIT: A Very Interesting Popular Game